About Just the Three of Us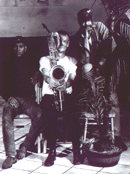 JTTOU is a trio that consists of drummer Louis Moholo, percussion player Thebe Lipere both from South Africa and me.
I always loved the way Louis Moholo played the drums. If I try to explain why every word sounds silly so I just say mr. Moholo is special. Late in the 70-ties Iwas running a jazzclub (Jazzpower is still there http://jazzpower.dse.nl) in Eindhoven, my home town in Holland. I had the opportunity to invite the legendary Blue Notes from South Africa with Chris McGregor, Dudu Pukwana, Johnny Dyani and Louis Moholo. I was blessed to be a witness of a memorable evening because Frank Wright also dropped in out of the blue. Louis stayed in my house for one night and that's the way we got in touch.
In beginning of the 80-ties I was on holliday in England (biking the south coast with Corry) and went to London for a couple of days. I went to a concert of Derek Bailey. He was playing in a trio and one of the players was Thebe Lipere. I didn't speak to Thebe but he made big impression on me with his free style African playing.
In 1988 I started to organise a yearly festival for improvised music in Eindhoven (the South Netherlands Jazzfestival is cellabrating now in 2004 the 15th edition (http://www.stratosphere.nl/SZNJF.html). For the first edition I invited Thebe Lipere to play in a group with Jo Sachse, Uwe Kropinsky, Raoul van der Weide and Conrad Bauer. It was a big success.
I was also playing at that festival and after my set Thebe came to me and said:" We have to play with each other man you and me and my partner Louis Moholo" I suggested to ask another musician to join but Thebe replied "Just the three of us" ( = JTTOU). We did many tours in Holland, I went to London once, we went to the former DDR and in 1997 we did a tour in Japan. In 1998 we did a tour in Holland just before I released "JTTOU live in Japan" on my Dino Label. This release was ment to be a surprise for Louis and Thebe and also a way to generate some money for the tour but that was wrong of course so I stopped selling after 60 copies.
After 1998 I kept on playing with Thebe Lipere (just as I did before) in all kinds of projects a.o. the Dejima Ensemble.